AIB Art Collection
Tuesday 6 March – Saturday 14 April 2012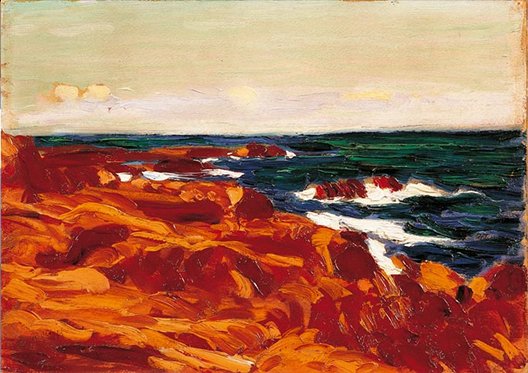 The star of the collection is Jack B. Yeats' A Race in Hy-Brazil. Described by Oskar Kokoschka as the "greatest painter in the world", Yeats depicted the people and landscapes of Sligo and the West of Ireland using colour in a glorious and uninhibited way. He did much of his best work during the 1940's and 50's, when received wisdom would hold that Ireland was a drab and grey place. If this be true, then AIB and its support of the arts played an important role in the country's emergence from these grey years, and it is fitting that the three works by Yeats coming to the Crawford are amongst his best: A Race in Hy Brazil has a marvellous dream-like quality while Now or Never and Shelling Peas in Moore Street capture quintessential moments of everyday life.
William Scott's Blue Still Life with Knife were also inspired by aspects of everyday life, as was Nathaniel Hill's Goosegirl in a Breton Farmyard and Joseph Malachy Kavanagh's Cockle Pickers. The AIB Art Collection also records the struggle for political independence, and the equally arduous road towards making Ireland a modern nation state. Sean Keating's On the Run, War of Independence recalls the early 1920's, when ambushes, raids and reprisals were a common occurance and yet during this same period artists such as Mainie Jellett, Mary Swanzy and Evie Hone could still travel to London and Paris to study art. These talented artists returned to Ireland, where they avidly promoted Modernism, including Cubism, in an art world that had up to then been rather blinkered, and dominated by male academic painters. A key work by Mainie Jellet is Composition with 3 Elements, while Evie Hone's Landscape, Co. Wicklow is an early and fine example of her work. William Orpen, represented in the AIB collection by The Boxer, inspired a later generation of realist painters including Maurice MacGonigal, whose Races at Ballyconneely is delightful evocation of windswept Connemara.
Colin Middleton experimented with Expressionism and Surrealism, as in his, Market Day, Moonlight Ballyholme and Winter, while Patrick Collins also forged a very individual and delicately-handled style of abstraction, seen at its best in Travelling Tinkers, Bog Country and A Place with Stones, works that evoke memories of Fragonard and Watteau.
Harry Kernoff continues the thread of everyday life that links many of the works in the AIB collection, with his view of ordinary people enjoying themselves, in Sunny Day, Dublin and The Forty Foot, Sandycove, while Gerard Dillon never lost sight of his background, instead transforming his experience of years of adversity into magnificant paintings such as Cut Out, Drop Out and Still Life.
The painter Tony O'Malley had started out on a career as a bank official only turning to art later in life, and it is apt that his Ripe Cornfield in the Wind and Big White Flower Pot are two works from AIB that will be coming to the Crawford. William Crozier has a particular affinity with West Cork, and is represented by two fine paintings, Walking to the Sea and The River Boundary (Lough Hyne).
Donated in February 2012 by AIB to the State, this fine collection of some of the best works of Irish art will become part of the Crawford Art Gallery's permanent collection.
A catalogue will be available in the Gallery bookshop.
For Guided Tours for Schools and groups contact the Education Team:
E: emmaklemencic@crawfordartgallery.ie / anneboddaert@crawfordartgallery.ie
T: (021) 490 7862 / 490 7864
Image: Roderic O'Conor: Red Rocks Near Pont-Aven, 1898; part of the AIB Art Collection to the State 2012
Tuesday 6 March – Saturday 14 April 2012
Emmet Place, Cork
Telephone: +353 21 4805042
Opening hours / start times:
Monday 10:00 - 17:00
Tuesday 10:00 - 17:00
Wednesday 10:00 - 17:00
Thursday 10:00 - 20:00
Friday 10:00 - 17:00
Saturday 10:00 - 17:00
Admission / price: Free