Agitating Space
Saturday 5 March – Saturday 9 April 2016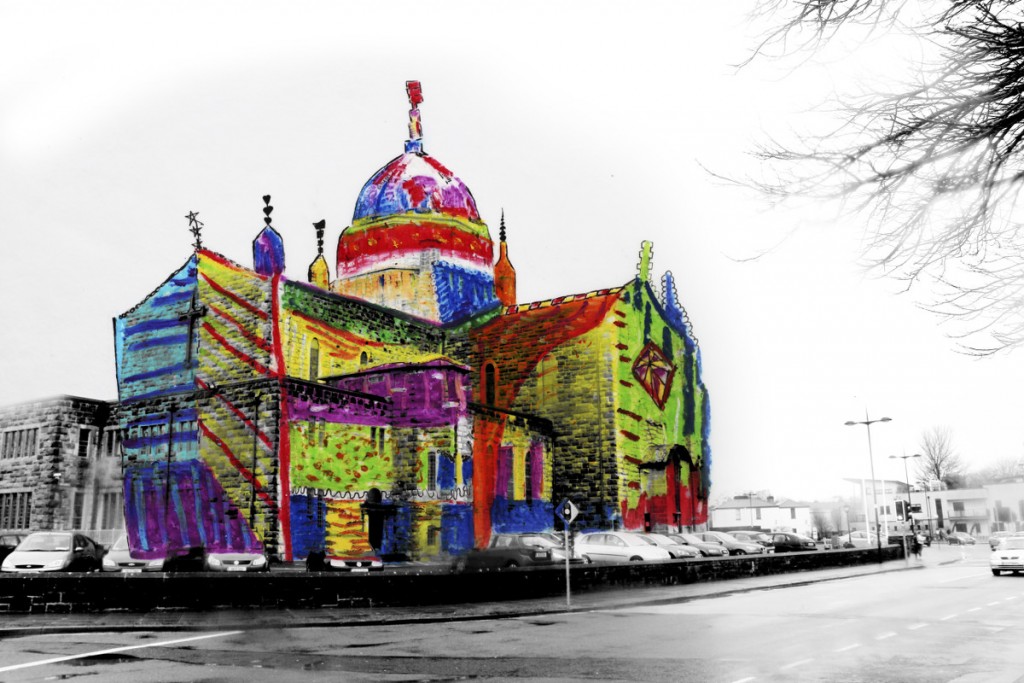 Red Bird Youth Collective
+ Ruby Wallis || Gerald Glynn || Roisín Coyle
Red Bird Youth Collective's latest exhibition has been created in collaboration with Roisín Coyle and Ruby Wallis, artists, and Gerald Glynn, computer programmer. Together, they have worked in partnership with artists from Centro Cultural Vila Prudente, an art school located in the Vila Prudente favela in São Paulo, Brazil. Featuring digital and paper work, the project looked at spatial and social planning, including reimagining architectural landscapes.
The project was led by the creative team of artists Ruby Wallis and Roisin Coyle, with technical direction from Gerald Glynn. The group began by creating colour overlays to black and white cityscapes of both Galway and São Paulo. This work was then fed into Photosynth to create moving images of the reworked city landscapes, exploring the intricacies of what makes a building and what makes a space. This methodology was echoed by the artists in Brazil, allowing both groups to compare and contrast their city living experiences. Augmented by dystopian literature reading sessions led by Lucy Elvis of Gallery 126, the groups also investigated the concepts of the impossible quest for a utopian society. These literary journeys were further developed with a lecture and workshop with Professor Tom Moylan. This project and exhibition have been funded by the Arts Council's Engaging with Architecture Award.
Red Bird Youth Collective is a visual art group for young people living in Galway city & county. Established in September 2011 by Galway Arts Centre, it has received funding from The Arts Council & Galway County Council to deliver youth-led projects in collaboration with professional artists. Red Bird members work together on a diverse range of projects, including visual art, film, architecture, digital media, performance and literature projects.
For more information on Red Bird Youth Collective please email Galway Arts Centre at orla@galwayartscentre.ie or visit our website www.theredbirdcollective.com to sign up to our mailing list.
Saturday 5 March – Saturday 9 April 2016
47 Dominick Street
Galway
Telephone: + 353 91 565 886
Opening hours / start times:
Monday 10:00 - 17:30
Tuesday 10:00 - 17:30
Wednesday 10:00 - 17:30
Thursday 10:00 - 17:30
Friday 10:00 - 17:00
Saturday 10:00 - 14:00
Admission / price: Free