Adam Patterson: A Very Normal Place
Saturday 30 June – Saturday 4 August 2012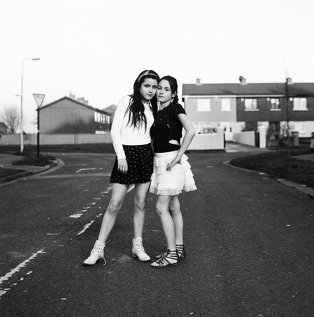 Opening Reception Friday 29 June, 6 – 8pm
A Very Normal Place is a photographic exhibition by Adam Patterson about his time in Tallaght.
"I arrived with ideas and plans. Much had been written about west Tallaght and my aim was not to correct or offer an alternate view. The purpose was to record my personal time living in the area, through those that opened their doors to me. This work is about people – their faces, their gaze and their thoughts. The series depicts moments of my place in that corner of time. In every sense it is a collaboration with locals that took me into their world. These photographs could not have been formed without their guidance and trust.
I have always found photography to be a fantastic excuse to learn about people's lives. Often my resulting photographs resemble a brief sketch of my limited time attempting to understand them. People are often cautious about a stranger with a camera and yet with a careful approach and explanation doors will open. This was certainly the case in Jobstown, Killinarden, Fettercain and Brookfield – areas I was warned about by people I met in other parts of Dublin. It is sad that infrequent and unfortunate events involving crime and violence can cast a dark show over an entire area. The reality is that these places are primarily ordinary in every sense, with people just trying to live their lives. Issues arise because others form judgment without taking the time to witness this normality. If they were to walk the streets and talk to the residents, they would likely meet people very much like themselves. These photographs are an attempt to portray the routine, the moments that form a sense of what a place really means.
I thank the people in these photographs. They each gave me something of themselves for no reason at all."
– Adam Patterson, 2012 • www.adampatterson.net
Saturday 30 June – Saturday 4 August 2012
South Dublin Arts Centre
Tallaght, Dublin 24
Telephone: +353 1 451 5860
Opening hours / start times:
Monday 10:00 - 18:00
Tuesday 10:00 - 18:00
Wednesday 10:00 - 18:00
Thursday 10:00 - 18:00
Friday 10:00 - 18:00
Saturday 10:00 - 18:00
Admission / price: Free