A Donegal Photo Album
Thursday 15 January – Wednesday 11 February 2015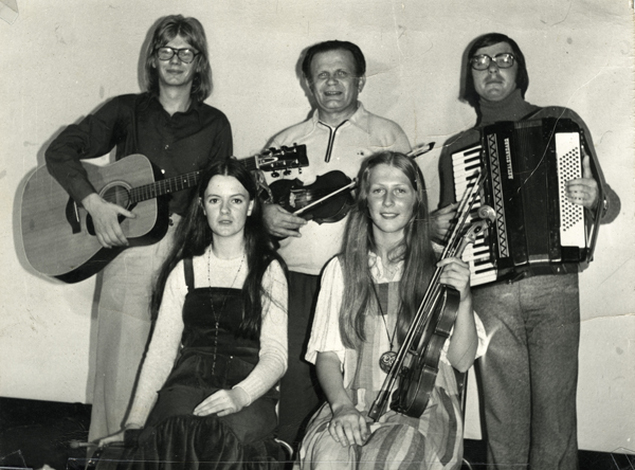 An insight into the life of musician Mairéad Ní Mhaonaigh and the vibrant Donegal Gaeltacht traditional music scene.
Mairéad Ní Mhaonaigh is renowned internationally as one of Ireland's leading musicians. Together with her band Altan, she has played the music of Donegal with pride on stages throughout the world. This exhibition looks at Mairéad's remarkable life in music viewed through her personal archive of photographs.
Mairéad was born and raised in the heartland of the Gaoth Dobhair Gaeltacht in Donegal. She is a native speaker and learnt her songs and tunes from family and neighbours. Her late father Francie Mooney was one of the most important fiddle teachers in that part of the country.
The exhibition, organised as part of Tradfest 2015, presents photographs charting her career with Altan, musical collaborations with leading Irish and international musicians and a small selection of recorded performances. Private family photographs featuring her father Francie, brother Gearóid, sister Anna and mother Kitty take you behind the scenes and give an insight into a childhood steeped in the unique musical tradition of County Donegal. Also on show are an edited selection of archival press cuttings, carefully collated by her mother Kitty, which chart her impressive career.
As well as playing with Altan, Mairéad is also renowned for her work on other projects. She is a founder member of Cairdeas na bhFidléirí founded over twenty-five years ago to promote, develop and keep alive the rich heritage of County Donegal. She has presented music programmes on both radio and television, which include: The Long Note, The Pure Drop, and lately, The Full Set. Mairéad is featured on recordings with Enya, The Chieftains, Dolly Parton, The String Sisters, T with the Maggies and many others. She hopes to take time out to compose new music in the future. Visit: www.mairead.ie
Organised in partnership with TRADFEST 2015. For information on Tradfest 2015 visit www.templebartrad.com
Image: Gearóid, Francie, Proinisias Mac a'Leagha (as Béal Feirste / Belfast), Maighréad NÍ Ghallchóir, (cousin) & Mariéad c.1970s © Mairéad Ní Mhaonaigh archive
Thursday 15 January – Wednesday 11 February 2015
Meeting House Square
Temple Bar, Dublin 2
Telephone: +353 1 6714654
Opening hours / start times:
Tuesday - Saturday 11am - 5pm. Mondays by appointment for education, artists archiving and training. Closed Sundays
Admission / price: Free