A Day in May
Wednesday 11 May – Sunday 22 May 2016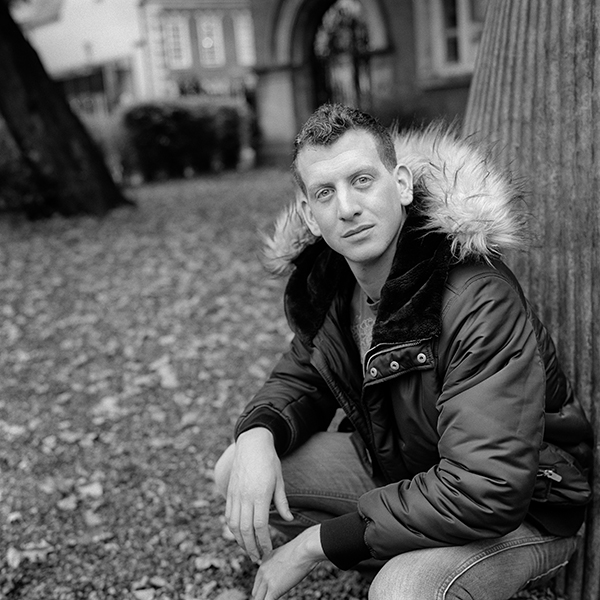 "On the 23rd of May 2015 the people of Ireland made history by becoming the first country in the world to vote by popular mandate to change their constitution to allow for the introduction of same sex marriage. The joyous scenes from across Ireland and Dublin Castle, as the historic vote was declared, made headlines across the globe."
But more than anything else the May 2015 vote was about changing the 'Real Lives' of the largest minority of people in Ireland: the LGBT Community.
The exhibition on show here in Gallery of Photography features stunning portraits by leading Irish photographers: Karl Hayden, Tristan Hutchinson, John Minihan (famous for his portraits of Samuel Beckett), Peter MacMenamin, John McColgan of Riverdance fame and Kate Nolan.
The exhibiton is accompanied by a specially produced book book 'A Day In May' by Charlie Bird – a poignant record to be read by everyone, gay and straight alike. The portraits compliment the voices on paper to powerful effect, amplifying the life-affirming impact of the day in May 2015 when Ireland said Yes to Equality". Priced €24.99, the book is available in all good bookshops nationwide. All proceeds from the sale of the book are going to Console – the suicide awareness charity.
"…these stories collected by Charlie Bird, filled with bracing honesty and heart-breaking personal revelation, make clear that being gay in Ireland was perhaps a more essential aspect of Irish history and Irish reality than anyone was aware."
Colm Tóibín
About the photographers:
Karl Hayden is a freelance video cameraman and photographer. In addition to his commercial work, he has also been recording and archiving many of the events around the LGBT community in Ireland charting the progress of LGBT equality over the last two decades. He is an active member of the LGBT community helping to bring about equality at home in Ireland and abroad for three decades. Most of his commercial work is in the area of fashion video production.
Tristan Hutchinson is a Dublin-based Editorial and Fine Art photographer. Tristan's work looks at contemporary community, with specific focus in Ireland at a time of social transformation.
Peter MacMenamin is a one-time teacher and retired trade union official who has been taking photographs as an amateur from a very young age.
John McColgan's love of photography goes back to childhood when he won his first camera for a primary school essay competition.  Among his varied careers he was a cameraman in RTE before embarking on life as a TV and Stage Director. He has renewed his love of photography hosting his first exhibition in The House gallery in Howth entitled Horizon Howth in 2015 raising thirty thousand euro for the Howth lifeboat charity. He is combining his photographic talent with supporting good causes. John  is currently planning two exhibitions;  one portraits of great Irish writers for Fighting Words the other an exhibition for Trocaire of photographs taken in the Gaza Strip.
John Minihan is a renowned film photographer taking B/W  images on a Rolleiflex camera…..for over 50 years and states that he is "very happy with the process". Among his numerous photographic publications are Photographs: Samuel Beckett (1995); Shadows from the Pale, Portrait of an Irish Town (1996); and An Unweaving of Rainbows, Images of Irish Writers (1996).
Kate Nolan is an Irish visual artist focused on extended photographic stories that examine the nature of identity. Her artist's book 'Neither' won the Magnum Award 2015, the Alliance Francaise Award and was nominated for Best Photobook at Foto Book Kassel 2015. Her work has been exhibited and published widely in Japan, USA, France, Germany, Portugal, Mexico, UK and Ireland.
A Day in May events
Tuesday 10 May at 6pm
A Day in May – In Conversation Event (6pm onwards)
Venue: Hodges Figgis Bookstore in Dawson Street
Rory O'Neill (aka Panti Bliss) in conversation with Charlie Bird, fine art photographer John Minihan and 3 of the people whose stories are featured in the book.
Wednesday 11 May
A Day in May Official Book Launch 6pm
Venue: The National Gallery of Ireland
The book will be launched on Wednesday 11 May by An Taoiseach in The National Gallery of Ireland at 6pm. All proceeds from the sale of the book are going to Console – the suicide awareness charity.
Tuesday 17 May
Belfast Book Launch (5.30–7.30pm)
Venue: Queen's Film Theatre (QFT), University Square, Belfast
Book Launch in association with Love Equality
Guest speakers include: Charlie Bird, Brian Sheehan & Representatives of Love Equality – the campaign for civil marriage equality in Northern Ireland

Thursday 19 May
Cork – In Conversation Event 7pm
Venue: Waterstones Book, Patrick Street,
An evening with Charlie Bird,Photographer John Minihan & contributors to the book
Thursday 26 May
Galway – In Conversation Event 6pm
Venue: Charlie Byrne's Bookshop Middle St, Galway
An evening with Charlie Bird, photographer John McColgan, Irish theatre director Garry Hynes
& contributors to the book
Click here to visit A Day in May website.
Image: Michael O'Riordan, photograph by John Minihan
Wednesday 11 May – Sunday 22 May 2016
Meeting House Square
Temple Bar, Dublin 2
Telephone: +353 1 6714654
Opening hours / start times:
Tuesday - Saturday 11am - 5pm. Mondays by appointment for education, artists archiving and training. Closed Sundays
Admission / price: Free