9 Stones Artists: The Book Project
Saturday 9 February – Sunday 19 May 2019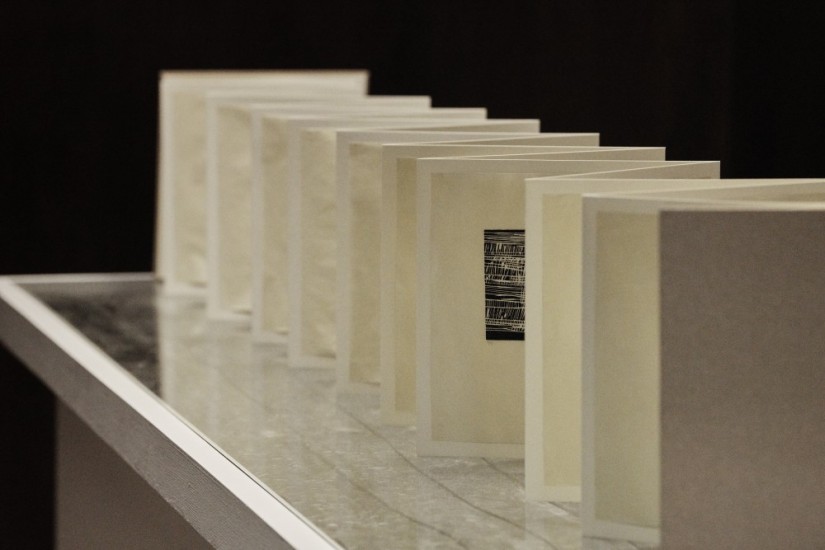 Michelle Byrne, Cathy Fitzgerald, Annabel Konig, Anthony Lyttle, Remco de Fouw, Martin Lyttle, Jules Michael, Rachel Joynt, & Gwen Wilkinson. This is a collaborative project by 9 Stones Artists and book artist Ciara Healy.
Artist Anthony Lyttle uses woodcuts as an integral part of his practice. In sharing his specific knowledge through workshops, the group was introduced to a new skill and visual language. The outcome, a book of hand-printed woodblock prints, reflects on a relationship to their practice and place of work.
About the Artists
9 Stones Artists, formed in 2004. Its members are professional artists living and working in the foothills of the Blackstairs Mountains. Dr. Ciara Healy is a Curator, Critical Writer, Book Artist and Lecturer in Art, Culture & Heritage at IT Carlow.
Associated Events
Artist Talk: Practice and influence • Saturday 2 March, 3pm (Free) • Curator Emma-Lucy O'Brien in conversation with members of 9 Stones Artists.
Wood Block Print and Book Binding Workshop
13 & 14 April, 10am–4pm (Cost: €80)
Facilitated by Anthony Lyttle and Ciara Healy. In this two day workshop participants will learn bookbinding and woodblock printing techniques. Taking inspiration from the work of artist Stephen McKenna, participants will create a series of prints. Emerging from this workshop you will have learned the process involved in block printing, book binding, and come away with a book of your own prints! Materials included.
Image: The Book Project: 9 Stone Artists, Foyer VISUAL 2019; installation shot by Ros Kavanagh
Saturday 9 February – Sunday 19 May 2019
Old Dublin Road, Carlow
Telephone: +353 59 917 2400
Opening hours / start times:
Tuesday 11.00 - 17:30
Wednesday 11.00 - 17:30
Thursday 11.00 - 17:30
Friday 11.00 - 17:30
Saturday 11.00 - 17:30
Sunday 14:00 - 17:00
Admission / price: Free
Remember to pay for the parking! Box office open, as well as times given, on day of theatre events from 6.30pm to show start.