50 Years – Modern Painting
Thursday 1 March – Saturday 31 March 2012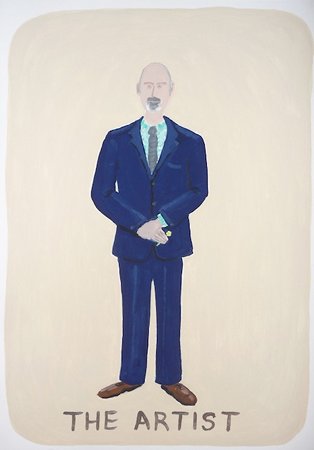 Camille Souter's 1961 Pale Shapes abstract painting marks the starting point for this collective show featuring 14 leading artists working on the island to varying degrees over the past 50 years, with examples of painting from each consecutive decade right to the present day. The exhibition covers different genres of painting including abstract, figurative, portraiture, landscape, still life and conceptual. Artists featured include Liam Belton, John Brady, Barrie Cooke, Michelle Dovey, Graham Gingles, Richard Gorman, Albert Irvin, Ciaran Lennon, Sean McSweeney, Makiko Nakamura, Gavin O'Curry, Neil Shawcross, Camille Souter and Andrew Vickery.
From the small intimate Character paintings of Vickery to the very large photo-based canvases of O'Curry, the show is a varied yet cohesive one that promises to engage and examine some very fine exponents of the medium.
Image: Andrew Vickery: The Artist, gouache on card, 37 x 26 cm
Thursday 1 March – Saturday 31 March 2012
3 Herbert Street
Dublin 2
Telephone: +353 1 6611279
Opening hours / start times:
Tuesday 10:00 - 17:30
Wednesday 10:00 - 17:30
Thursday 10:00 - 17:30
Friday 10:00 - 17:30
Saturday 10:00 - 13:00
Admission / price: Free
Closed Mondays and Bank Holiday weekends.