¿@#!*$
Friday 15 April – Saturday 7 May 2011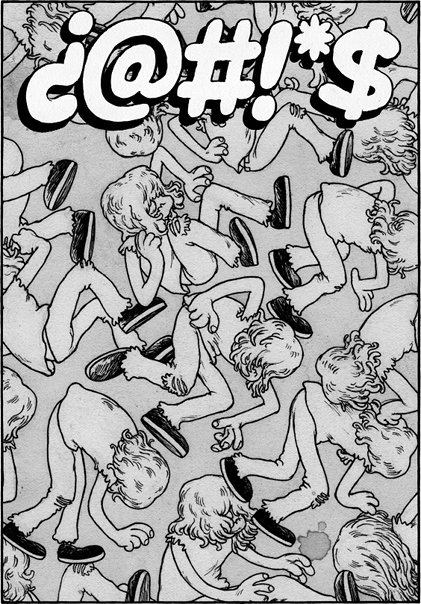 Preview Thursday 14 April, 7 – 10pm
What this unpronounceable series of symbols stands for is: an exhibition and series of events incorporating the artistic mediums of Comics, Illustration and Zine making.
Alongside the visual treats on display from the eclectic mix of local and international artists, Catalyst Arts will also play host to a library full of zines and comics from all over the place (basically anything we could get our hands on). Then, as if that wasn't enough, there will a be series of events running throughout the duration of the exhibition to keep things interesting. Details of which can be found below.
Exhibiting Artists
Malcy Duff • Travis Millard • Tom Gauld • Simone Lia • Chris Ware • Fionnuala Doran • Phil Barrett
Events
'Absence' Launch Party
7.30pm – 9:30pm
Thursday 21 April
Catalyst Arts Gallery
Local Artists Andy Luke (Gran, Don't Get lost) and Stephen Downey (Cancertown, Slaughterman's Creed) launch their latest work 'Absence'.
Secret Cinema
Location: Unknown
When: Not too sure either
Follow 'Sweet Or Salted' on facebook. If you want any more information… don't be silly, it is a secret isn't it.
Comic/Zine fair
12pm – 5pm
Saturday 23 April
Catalyst Arts Gallery
On Saturday 23 April the Gallery space will be handed over to creators of comics, zines and all things illustrative. Stalls will be set up pedaling wares ranging from cakes to comics, posters to bags, zines to doodles on pieces of paper… you get the idea.
Stalls are FREE but spaces are limited, so if you are interested in reserving one then please contact catalystarts@gmail.com
Pretty Circus presents 'Live Music & Live Drawing'
7pm – 1am
Sunday 1 May
Catalyst Arts Gallery
The collective Pretty Circus arrange a night of live performance with music and illustration combining for a unique take on the collaboration of the two art-forms.
'The Simpsons'
A live comic performance by Malcy Duff
8pm
Thursday 5 May
Catalyst Arts Gallery, Belfast
'The Dog Walking Technique'
Drawing / Comic Storytelling Workshop
11am – 3pm
Saturday 7 May
Catalyst Arts Gallery, Belfast
Lunch Provided
FREE
On Saturday 7 May, Artist Malcy Duff will be running a free workshop based around non-traditional approaches to drawing, and comic storytelling, exploring new possibilities in form and narrative. Malcy uses sensory drawing to create ideas and / or characters, and have specific techniques that he has designed to lead these into making comix.
Spaces are limited, if you are interested in taking part please RSVP to catalystarts@gmail.com to book a place.
Friday 15 April – Saturday 7 May 2011
5 College Court
Belfast BT1 6BX
Telephone: +44 28 90313303
Opening hours / start times:
Tuesday 11:00 - 17:00
Wednesday 11:00 - 17:00
Thursday 11:00 - 17:00
Friday 11:00 - 17:00
Saturday 11:00 - 17:00
Admission / price: Free
Open till 9pm the first Thursday of every month.