100×100 – Art around the Inishowen 100
Saturday 30 June – Sunday 8 July 2012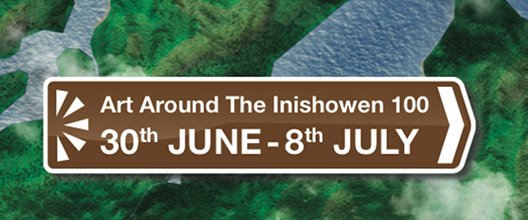 Project Launch and Preview Saturday 30 June, 3pm, Fort Dunree
100×100 – Art across the Inishowen 100
Abridged, John Beattie, Denzil Browne, Kieran Brown, Maria Campbell, Cavanacor Gallery, Gerald Dawe, Derry Print Workshop, Sean Fingleton, Sara Greavu, Paddy Kelly, Martha Lewtas, Crona Lynch, Ruth McCartney, Maria McKinney, Tina McLaughlin, Philip McFadden, Cathal McGinley, Joanna McGlynn, Carol Anne McGowan, Chris Marshall, Lauren Mason, Locky Morris, Paul Muldoon, David O'Kane, Eddie O'Kane, Matthew O'Kane, Plethora Produictions, George Shaw, Dan Shipsides, Gerard Smyth, Leonie Tang, Anne Marie Webb
For directions to Fort Dunree see www.dunree.pro.ie/findus.html
The Inishowen 100 scenic drive gets its name from its approximate distance in miles around the Inishowen peninsula. The 100×100 project gets its name from its approximate number of commissioned artworks featured across the Inishowen 100. This new intervention by Artlink in the Inishowen 100 scenic drive will be an annual project, presented for the first time in 2012.
Start the Inishowen 100 scenic drive at its official starting point, the border village of Bridgend and continue to the coastal village of Fahan where at the Railway Tavern, Fahan the project by Lauren Mason, Check, documents a passing tradition among rural communities (30Jun– 8Jul).
Continue via the coastal road to the market & tourist town Buncrana, to the Youth Drop In Centre, Main Street, Buncrana for the project by Leonie Tang & Buncrana Youth Drop In & OPTIC using archive imagery, camera obscura & digital photography (5-8Jul). Check out more of Check at The Coffee Cup, Cockhill Road, Buncrana (30Jun-8Jul).
Leave Buncrana via Wilson's Bridge and the Inishowen 100 continues through farming communities up and up to where perched on a headland overlooking Lough Swilly sits the stunning Fort Dunree, with a giant sky perfect for the Cyanotype Workshops in early photographic printing techniques by Denzil Browne (1 & 8 Jul). 4.07, an abstract memorial by Philip McFadden is at the Blockhouse, Entrance Gate, Fort Dunree. At the Saldanha Galleries, Fort Dunree is the work Breakers by Locky Morris (check out the site of materials for this work later in the drive, Tullagh Bay near Clonmany), and Paddy Kelly's Boglandseries of landscapes shot through with political history, and the group show of contemporary print, drawing and painting by artists (Sean Fingleton, Kieran Brown, Matthew O'Kane, Eddie O'Kane, Carol Anne McGowan, David O'Kane, Chris Marshall and Anne Marie Webb) of the Cavanacor Gallery on Tour. At the Artlink Studio at Fort Dunree see the open studio by Cathal McGinley, working with the motifs of plein-air drawing within the tradition of collecting from the shore (All Fort Dunree studio & projects: 30Jun -8Jul).
Leave Fort Dunree and Lough Swilly and head through Mamore Gap, which offers breathtaking views and a descent of 800 feet towards the farming village of Dunaff and through tourist and market villages of Clonmany and Ballyliffin, near mile upon mile of beaches. There at Glen House, Glenevin Waterfall, Straid, Clonmany, are workshops in spinning and the live installation work Red Thread, by Ruth McCartney, with local women spinning local fleece and the predetermined connections of the landscape, place and people that surround us; workshops to sew, embroider and embellish sand, sea and sky with fabric, thread and sundry in the Inis Eoghain 100 'beaches' quilt by Tina Mc Laughlin; and textile workshops by Martha Lewtas (All Glen House projects: 1-2Jul).
Continue onto the agricultural market town of Carndonagh: at Gaelic Park Gallery, Gaelic Park, Carndonagh the project Once Upon A Time in Carndonagh by Philip McFadden, responds to Carndonagh's ancient High Cross: 32 sculptural snapshots of collisions of modernity and tradition generated by the 'Celtic Tiger' (2-8Jul)..
Onwards to Malin Head, Ireland's most northerly point, and the 100×100 project The T5 field cinema by Dan Shipsides, bringing together small groups at remote locations to watch films and artist videos (8Jul). Onto the fishing village of Glengad, where workshops by Crona Lynch & Glengad Youth Club explore the ocean (8Jul). Hugging the shore on to Carrowmenagh which is the only site to see the complete project Abridged 0-31: Crash (a collection of art/poetry cards by artists: Abridged, John Beattie, Denzil Browne, Maria McKinney, George Shaw; & poets: Olive Broderick, Maria Campbell, Gerald Dawe, Paul Muldoon, Gerard Smyth) at Tremone Bar, Carrowmenagh (30Jun-1Jul & 6-8Jul).
The Inishowen 100 continues through Culdaff, a resort village, and on to the beaches and lighthouse of Shrove where Public Commission 16m HVS 4c+ route drawing by artist and climber Dan Shipsides at the Port A Doris, Shrove Beach natural rock archway frames as a public artwork a beautiful new climbing route (From 30Jun). Onto the fishing village of Greencastle and a Clipper Festival marquee next to the Ferryport Bar, Greencastle where Derry Print Workshop present Printing Workshops for kids & adults (2/3/5Jul).
The Inishowen 100 continues through the beautiful coastal village of Moville where the work Prana by Joanna McGlynn uses shadow puppetry and digital animation at The old Barr's tailors, Malin Rd, Moville pop-up screenings (3-8Jul). As it draws near its full circuit of the peninsula, the Inishowen 100 hugs the river and Lough Foyle through Redcastle. And on to the final border village of Muff where at Halo Hairdressing, Main Street, Muff Sara Greavu's work 'Formerly Euro-Style'brings together disparate elements including Wolfe Tone, excessive hairstyles of the 18th century and 'austerity (From 7Jul).
At the other side of Derry, back in Donegal at Killea, there is another juncture between fate and the everyday by Locky Morris, The Drop, at the base of the Inishowen peninsula, O'Donnells Garage, Killea (From 30 Jun). With the Inishowen 100 completed, the perspectives of those always in situ feature in the Plethora Productions project 100 Views via www.artlink.ie – and you can stay in touch with the 100×100 whole project at that wesbite and via Artlink Buncrana on Facebook
---
The week 30 June – 8 July sees the following previews within the 100×100 project:
Saturday 30 June 3pm – 100×100 – Art across the Inishowen 100 – Saturday 30 June 3pm Fort Dunree
Sunday 1 July 8pm, Once Upon A Time in Carndonagh, Philip McFadden – Gaelic Park Gallery, Gaelic Park, Carndonagh
Tuesday 3 July 8pm, Prana, Joanna McGlynn – The old Barr's tailors, Malin Rd, Moville
Friday 6 July 2.30pm – Ocean Art Workshops, Crona Lynch & Glengad Youth Club – Glengad Community Centre & Youth Club
Saturday 7 July 8pm – 'Formerly Euro-Style', Sara Greavu – Halo Hairdressing, Main Street, Muff
Sunday 6 July 9pm – The T5 field cinema, Dan Shipsides – Malin Head
Saturday 30 June – Sunday 8 July 2012
Various locations
Inishowen Peninsula
Admission / price: Free