John Kelly: Beyond Woop Woop
Friday 12 June – Sunday 20 September 2015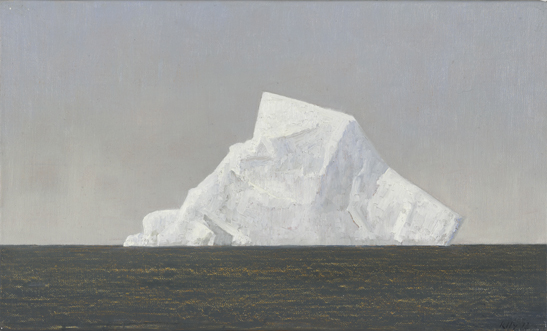 In 2013, Australian artist John Kelly travelled to Antarctica supported by an Australian Antarctic Arts Fellowship. The two month period on the icy continent and the 21 day journey on the ice-breaker Aurora Australis inspired the captivating series of paintings presented in this exhibition.
Kelly travelled with a light easel and a carrycase that contained canvas boards, paints and brushes. This system enabled him great flexibility, providing access to remote sites where he painted subjects as diverse as penguins, snow petrels, amphibious vehicles, helicopters and research stations to establish a many-sided view of Antarctic life. Remarkably, nearly all of the paintings were created en plein air in the freezing conditions.
'Woop Woop' is the larrikin-name of the airbase at Australia's Casey Station in Antarctica which appealed to Kelly's dual senses of humour and isolation. Aptly titled Beyond Woop Woop, the exhibition also depicts Kelly's exultant response to the Antarctic landscape: the vastness, strangeness and magnificence of its mountains, icebergs, and the light night sky.
This exhibition is presented by TMAG in association with Dark Mofo. The project has been assisted by the Australian Government through the Australian Antarctic Arts Fellowship.
Image: John Kelly: First Berg (2013), oil on canvas board
Friday 12 June – Sunday 20 September 2015
Tasmanian Museum and Art Gallery
Hobart
Admission / price: Free