Felix Gonzalez-Torres: "Untitled" (The New Plan), 1991
Wednesday 16 December – Wednesday 30 December 2015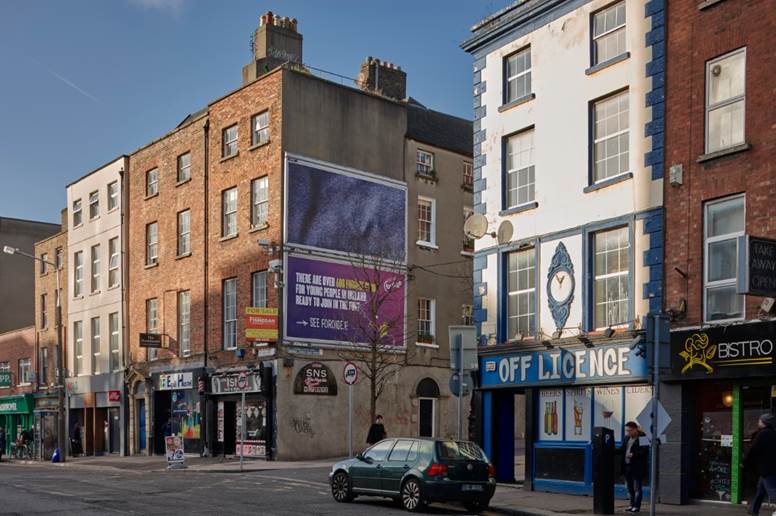 IMMA takes art onto the streets of Dublin as part of the exhibition What We Call Love
IMMA will be providing a moment of contemplation amongst the frenzy of Christmas advertising with the artwork "Untitled" (The New Plan), 1991, by Cuban-born American artist Felix Gonzalez-Torres (1957-1996). As part of the exhibition What We Call Love: From Surrealism to Now (12 Sep 2015 – 7 Feb 2016) Gonzalez-Torres' artwork will be presented on six billboards across six sites within Dublin city centre normally used for prime advertising space.
Felix Gonzalez-Torres, "Untitled" (The New Plan), 1991, Billboard, Dimensions vary with installation
The billboards are on view from 16 to 30 December 2015 in the following locations:
10 Ushers Island, Dublin 8

Townsend Street, Dublin 2

109 Pearse Street, Dublin 2

126 East Wall Road, Dublin 3

Talbot Street, Dublin 1

145 Parnell Street, Dublin 1
Felix Gonzalez-Torres' artworks are known for their quiet, simple forms and minimal aesthetic. The artwork "Untitled" (The New Plan), 1991, is made by reproducing a specific colour image of denim fabric, a photograph by Gonzalez-Torres, exclusively as billboards. The work is intentionally open to interpretation and driven by viewer interaction. The artist specified that the work was intended to be installed in a variety of locations in diverse neighbourhoods.
Key to Gonzalez-Torres's practice was the cultivation of an empowered audience, activating his work through participation and the capacity to construct meaning from the visual cues and open-endedness he created in the artworks. Using an already socially-accepted visual form – such as the public billboard – allowed Gonzalez-Torres to subtly communicate to people outside of the gallery space, and within the environment of daily life in the city.
As part of a concurrent exhibition by New York based Irish artist Les Levine IMMA is also presenting a group of unique cibachrome photographs of key media billboard campaigns which the artist staged during the 1980s and '90s, in major cities across the world. Presented as part of the exhibition IMMA Collection: Les Levine: Using the Camera as a Club – Media Projects and Archive It is interesting to note that Levine was making these works around the same time that Gonzalez-Torres made "Untitled" (The New Plan). 
Additional Note 
Felix Gonzales-Torres: This Place
The Mac in Belfast is currently showing Felix Gonzales-Torres: This Place (30 Oct 2015 – 24 Jan 2016) the largest presentation of the artist's work in Ireland to date. The exhibition also presents the artwork "Untitled" (For Jeff) on billboards across 24 locations around Belfast.
Wednesday 16 December – Wednesday 30 December 2015
Billboards
Dublin
Admission / price: Free