ELSE[w]HERE
Thursday 11 June 2015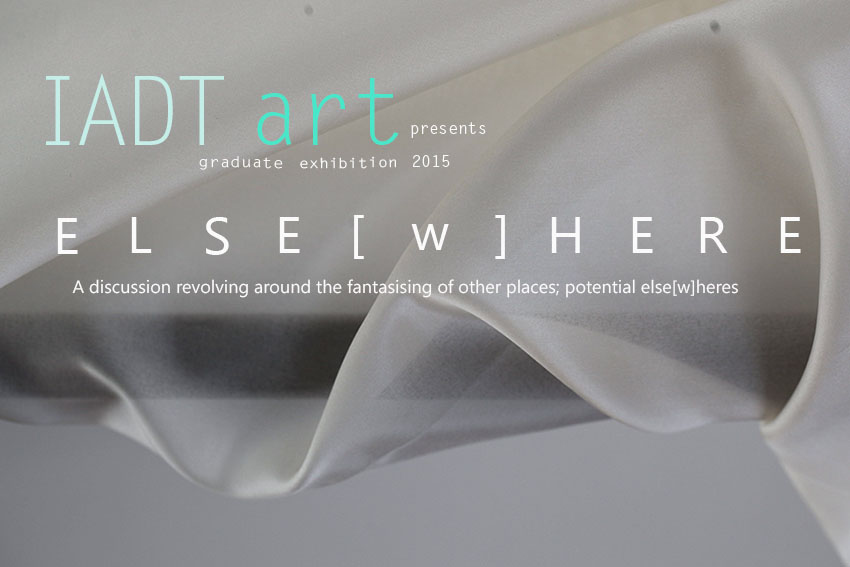 To mark the closing of the 2015 degree exhibition, IADT's BA in Visual Arts Practice students are hosting a symposium and tour on the theme of E L S E [w] H E R E. This event will explore the attraction and potential (for artists and others) of actual and imagined places, and the experience of moving/working/living between places. The symposium idea has developed from discussions about the pros and cons of leaving Dublin after graduation, issues of migration and mobility, and the possibilities of changing or re-imagining a place. Four invited speakers – Helen Carey, Vukasin Nedeljkovic, Kate Strain, Marysia Wieckiewicz-Carroll – will present informal responses to the theme, providing a starting point for an open discussion. This will be followed by tour of the BA exhibition, led by students on the ARC MA programme, and a closing reception.
Biographies of Invited Speakers
Helen Carey is Director of Dublin's Fire Station Artists' Studios which provides support for Visual Artists and is publicly funded by the Arts Council of Ireland.  These supports range from providing live/work spaces to large scale sculpture workshop facilities and curatorial network building for artists.  She is also a Dublin based independent Curator, with research interests in memory, history and cultural identity. Previously Director/Curator at Limerick City Gallery of Art and Centre Culturel Irlandais Paris, she was also Public Art Project Manager for the landmark millenium project At Bristol in the United Kingdom. Most recently she has worked with artists Ewa Partum, Michael Warren, Lida Abdul, Jamal Penjweny, and Mark Curran, working on the project THE MARKET as well as a series of exhibitions for the centenary of the Dublin Lockout 1913/2013.
VukasinNedeljkovic is a PHD student at Centre for Transcultural Research and Media Practice at Dublin Institute of Technology. He initiated multidisciplinary project Asylum Archive. Asylum Archive is not a singular art project that stands 'outside of society' engaged in an internal conversation. Rather it is a platform open for dialogue and discussion inclusive to individuals who have experienced a sense of sociological/geographical 'displacement', social trauma and violence. It is an act of solidarity to bring a different perspective on the life of people who came to Ireland to seek protection. Asylum Archive's objective is to collaborate with asylum seekers, artists, academics, civil society activists and immigration lawyers, amongst others, with a view to creating an interactive documentary cross-platform online resource, critically foregrounding accounts of exile, displacement, trauma and memory. Asylum Archive deploys a combination of practice-based fieldwork research methods, including photographs of direct provision centres and the use of found and abandoned artefacts, video and audio records with human rights activists and the documentation of reports, scholarly essays and newspaper articles on the subject of asylum in Ireland.www.asylumarchive.com
Kate Strain is an independent curator currently engaged with the Young Curator's Residency Programme at Fondazione Sandretto Re Rebaudengo, Torino, Italy. She holds a BA in the history of art and architecture, and history, from Trinity College Dublin, and an MA in Visual Arts Practices from IADT Dun Laoghaire. She participated on de Appel Curatorial Programme, Amsterdam in 2013/14, after which she worked as Acting Curator at Project Arts Centre, Dublin. Recent exhibitions include Clerk of Mind, a solo show by Chris Evans, and The Centre For Dying On Stage #2, a group exhibition featuring artworks and performances. Current projects include On Curating Histories, an ongoing research and generative lecture series, and The Centre For Dying On Stage, a performative research and commissioning body. Strain makes up one half of the paired curatorial practice RGKSKSRG working alongside Rachael Gilbourne, and is currently based at Studio 468, Common Ground, Dublin.
Marysia Wieckiewicz-Carroll is an independent curator and art writer living in Dublin. She has been involved in a number of exhibitions and projects in Ireland and abroad, most recently as a co-curator of Sleepwalkers. Production as Process at the Hugh Lane Gallery in Dublin and the curator of Otherwise – a group exhibition of six Irish or Ireland-based artists (Kennedy Browne, Ella de Burca, Marta Fernandez Calvo, Jesse Jones, Seamus Nolan and Elaine Reynolds) at the Wyspa Institute of Art, Gdansk, Poland. She worked as Assistant Curator at the Hugh Lane Gallery and collaborated on numerous exhibitions and events with The Joinery – one of Dublin's most renowned artist's led initiatives. Her recent essay Same but Different reflecting on the modes of institutional infrastructure has been included alongside texts by Chantal Mouffe and Simon Critchley in the Sleepwalkers publication, co-published by Dublin City Gallery The Hugh Lane and Ridinghouse. As of April 2014 she has been appointed the new co-editor of PVA (Paper Visual Art Journal) – an online magazine of art criticism. Wieckiewicz-Carroll graduated with an MA in Art in the Contemporary World from NCAD, Dublin and holds an MA in Cultural Studies from Jagiellonian University, Krakow, Poland.
Booking is essential: www.eventbrite.ie/e/e-l-s-e-w-h-e-r-e-tickets-17173596690
Thursday 11 June 2015
The Chapel, Quadrangle Building
IADT, Dún Laoghaire, Co. Dublin
Admission / price: Free