Eleanor McCaughey: Forget your cares, sow your wild oats, sin is a wonderful disease
Thursday 5 January – Saturday 28 January 2023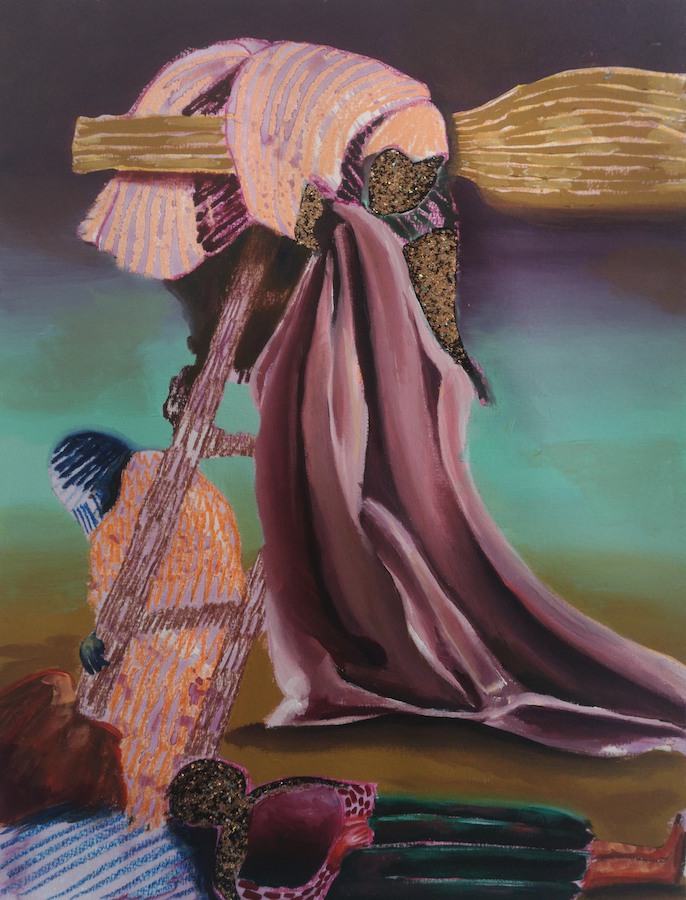 ――― In venue ―――
From an early age, McCaughey was intrigued by theological narratives and imagery, continuously renewing and rebuilding her relationship with the proposed "truths". Prompted by the rediscovery of a drawing from her childhood, it was the recent intense period of major health issues that fueled a new approach and a new drive. The urge to break everything down and go back to basics took over, and the Dublin-based artist stepped away from established tools and started using religious iconography or renaissance paintings as a blueprint, a palette, and a compositional guideline. All this transformed the overall practice into a healing process, in which building paintings back up again became a metaphor for building herself up again. By flattening, transforming, and abstracting the original scenes into an assemblage of elements only remotely evocative of their origin, a more tangible sense of humor is added to the reference image, conveying the respectful yet amused outlook at the works of Fra Angelico, his contemporaries, or the Celtic mythology and symbolism.
Extract from an Accompanying Text by Saša Bogojev
Eleanor McCaughey is an Irish artist living and working in Dublin. Recent exhibitions include Pay No Attention To That Man Behind The Curtain with Lucy Sheridan, The Complex, Dublin (2022), Bones in the Attic, Hugh Lane Gallery, Dublin (2022), Dubliners, 6th Biennial of Painting, Croatia (2021), Woman in the machine, Visual Carlow (2021), Oddly Accurate Things with Lucy Sheridan, 126 Gallery, Galway (2019), Bedecked with David Lunney, Platform Arts, Belfast (2019), Minsta gallery, Silver, Curated by Davey Moor, Kevin Kavanagh Dublin (2019),There is a police man in all our heads, that must be destroyed, (Solo Exhibition) Pallas Projects, Dublin (2017).
Image: Eleanor McCaughey: shadows hold their breath, oil, gouache, wax crayon and glitter on Fabriano, 2022, 30 x 40cm
Thursday 5 January – Saturday 28 January 2023
Chancery Lane
Dublin 8
Telephone: +353 1 475 9514
Opening hours / start times:
Tuesday to Saturday 11am – 5pm
Admission / price: Free