C A H O O T S : S A M P L E \ w / A 4
Thursday 31 January – Sunday 10 February 2019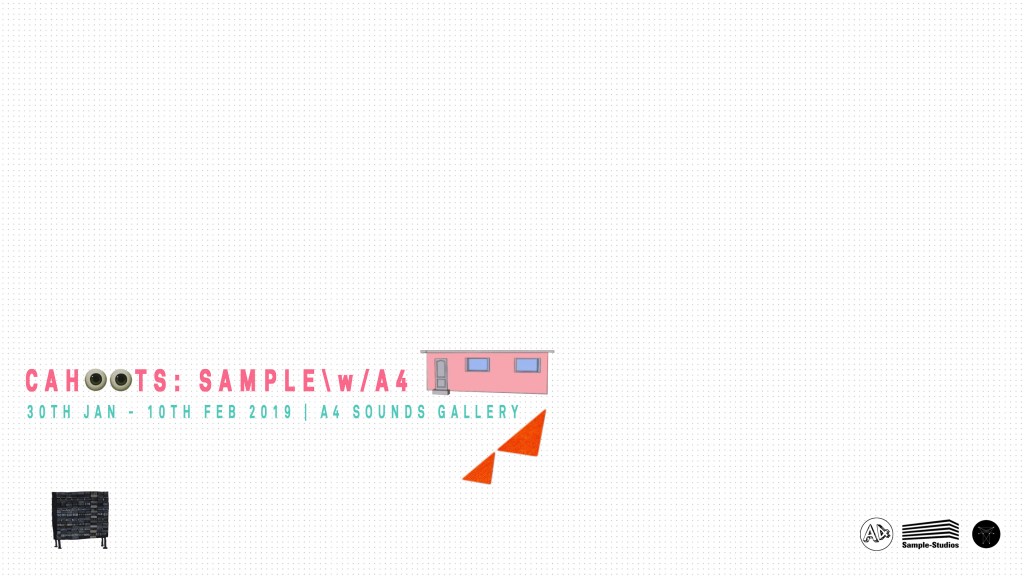 C A H O O T S : S A M P L E \ w / A 4 is the first in a series of collaborations between A4 Sounds and Artists Studios here in Ireland and further afield.
C A H O O T S : S A M P L E \ w / A 4 features work by 13 member artists from Sample-Studios, Cork.
Sample-Studios is one of Irelands leading artist-led spaces with over 40 member artists. TACTIC is the artist-led visual arts programme of Sample-Studios. With their focus on creating a dialogue and a process of collaboration across disciplines they aim to highlight artists and curators who demonsatrate high levels of resolution, investigation and critical thinking in their practice whilst also facilitatiing the enjoyment and participation in contemporary art for its audiences.
The Artists
Sarah Jayne Booth
Nora Buttimer
Edith Cosgrave
Pat Donlon
Tommy Feehan
Joseph Hefferman
Kathryn Kelly
John Ketch
Kevin Mooney
Kim-Ling Morris
Anna O'Riordan
Alison O'Shea
Catriona Osborne
Facebook Event Page • Full information on each of our participating artists and their work can be found here!
Thursday 31 January – Sunday 10 February 2019
St Joseph's Parade
Off Upper Dorset Street
Dublin 7
Opening hours / start times:
Fri : 12pm – 6pm
Sat: 1pm – 6pm
Sun: 1pm – 4pm
Accessibility
Our gallery is wheelchair accessible.
Our toilets are gender neutral.
Our toilets are accessed via a flight of stairs which may provide difficulties for people with movement impairments.
If you are interested in attending an exhibition or event at A4 but may have some concerns, please get in touch and we can help facilitate your visit.
Admission / price: Free
General Opening Hours
Mon – Fri : 12pm – 6pm
Sat: 1pm – 6pm
Sun: 1pm – 4pm