The Otherworld Hall
Friday 27 October – Friday 22 December 2017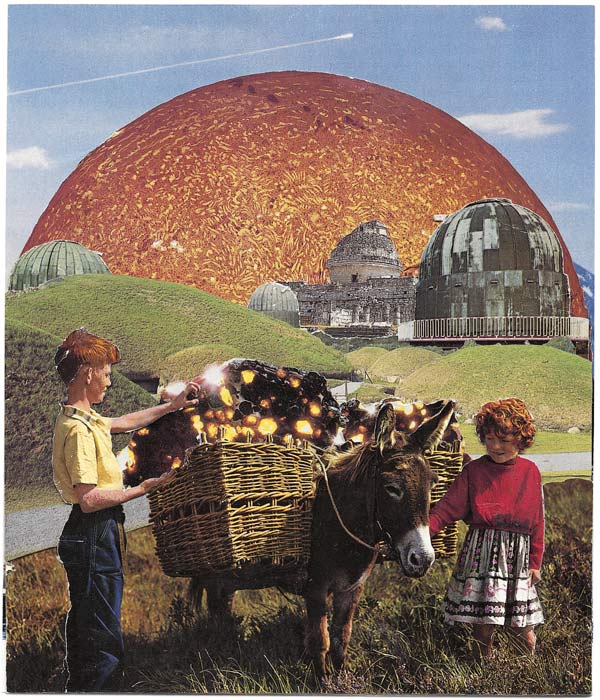 Aoibheann Greenan, Seán Hillen, Seán Lynch, Lucy McKenna, Tadhg McSweeney, Doireann Ní Ghrioghair, Nano Reid • Curated by Sabina Mac Mahon
This diverse exhibition brings together painting, sculpture, installation, photographic collage and video work by artists investigating the ancient myths associated with the Boyne monuments and Brúg na Boinne, the Otherworld mansion or "hall" on the Boyne.
Much of the interpretive material surrounding the impressive megalithic monuments that have populated the landscape of the ancient Kingdom of Midhe for thousands of years focuses on their archaeological significance with an emphasis on what their study can contribute to our understanding of Ireland's pre-Christian history. However, recent research suggests the archaeology of the Boyne Valley may illuminate, and even provide evidence for, some aspects of myth. Home to the Tuatha Dé Danann, the supernatural race of gods and demi-gods who lived between the Otherworld and our own, could the monuments of the Boyne Valley also be the key that connects Celtic myth and reality?
Inspired by Louth artist Nano Reid's interest in the Boyne landscape and a fascination with how past and present, history and myth co-exist simultaneously in the ancient monuments of Knowth, Dowth, Newgrange and Tara, The Otherworld Hall invites participating artists to interrogate Meath's archaeological heritage and explore the intriguing convergence of fact and fiction represented by the Boyne Valley tombs. By doing so, the exhibition invites artists and visitors alike to reconsider their preconceived notions of how and why these monuments came to be, and what stories they might really tell.
Friday 27 October – Friday 22 December 2017
Railway Street
Navan
County Meath
Telephone: +353 46 9092300
Opening hours / start times:
Tuesday 11:00 - 16:00
Wednesday 11:00 - 16:00
Thursday 11:00 - 16:00
Friday 11:00 - 16:00
Saturday 11:00 - 16:00
Admission / price: As per event