Subjects and Objects: films by Daria Martin
Wednesday 7 June – Sunday 3 September 2017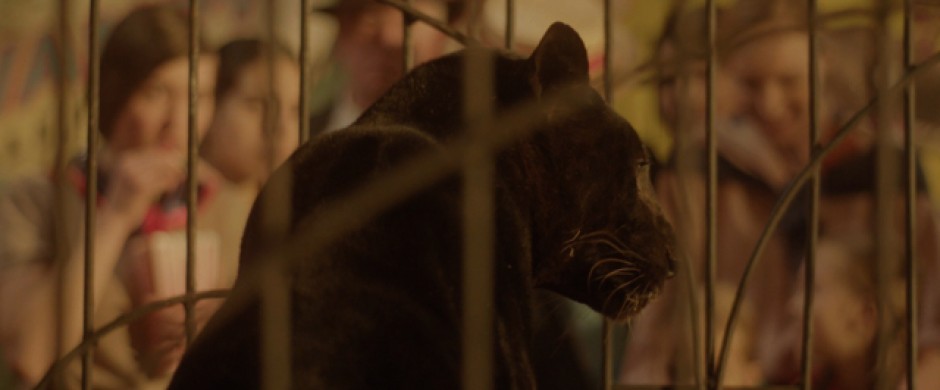 Daria Martin: A Hunger Artist (2017) & The Synaesthesia Trilogy (2012- 2016)
VISUAL Carlow is delighted to present a survey of new film works by Daria Martin.
Subjects and Objects features a world premiere of Daria Martin's new work A Hunger Artist (HD Film). Inspired by Franz Kafka's short story 'A Hunger Artist' (1922): a fasting artist performs in a cage for an admiring public but, perpetually underestimated, he doesn't live up to his potential until he falls out of fashion and then, left to his own devices without audience or manager, he dies. A robust panther takes up the Artist's place in a vacant cage….
This major survey show also includes Martin's latest trilogy of 16mm films The Synestesia Trilogy: Theatre of the Tender (2016); At The Threshold (2015); and Sensorium Tests (2012). Inspired by the artist's research into a heightened form of physical sensitivity called mirror touch synaesthesia, these latest works explore the dynamics of actor – spectator, and the transfer of emotion and feeling between people.
Daria Martin (born 1973) is an American artist and filmmaker based in London since 2002 and working primarily in 16mm film. Her work has been exhibited at the Hammer Museum, Los Angeles, The New Museum, New York, the Museum of Contemporary Art, Chicago, and the Australian Centre for Contemporary Art.
Her work addresses the spaces between states of being – levels of consciousness, internal and the external, body, mind and object – working to unravel viewer's learned habits of perception. Martin's films also often explore the differences and similarities between other artistic mediums including painting, performance, dance, and sculpture.
The production of A Hunger Artist has been made possible through the generous support of VISUAL Carlow, Site Gallery Shefield and Schering Stiftung Berlin. It has been supported by the Welcome Trust, the Arts Council England, St John's College, and the Ruskin School of Art, Oxford University, where Daria Martin is a Professor. The artist is represented by Maureen Paley, London.
Associated event:
Artist Talk: Daria Martin
Saturday 24th June, 3 pm, €5
This exhibition was made possible with the support of the Carlow County Councils Arts Office.
Image: Daria Martin: A Hunger Artist, production still, HD film,15 minutes, 2017. Photograph: Thierry Bal, courtesy the artist and Maureen Paley, London
Wednesday 7 June – Sunday 3 September 2017
Old Dublin Road, Carlow
Telephone: +353 59 917 2400
Opening hours / start times:
Tuesday 11.00 - 17:30
Wednesday 11.00 - 17:30
Thursday 11.00 - 17:30
Friday 11.00 - 17:30
Saturday 11.00 - 17:30
Sunday 14:00 - 17:00
Admission / price: Free
Remember to pay for the parking!

Box office open, as well as times given, on day of theatre events from 6.30pm to show start.