Mónika Bögyös: Pearl
Friday 17 November – Sunday 26 November 2017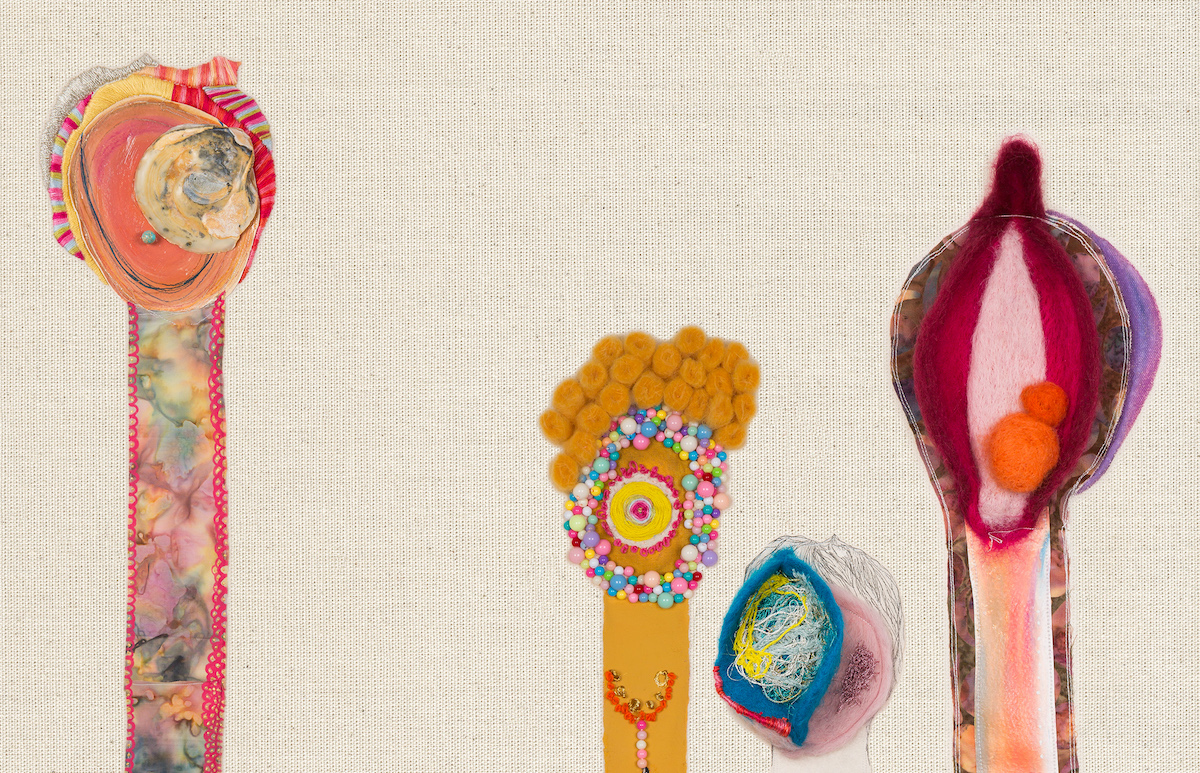 A4 Graduate Award Exhibition
Artist Talk & Exhibition Tour, Saturday 25 November, 4 – 5:30pm
Pearl is a new body of work by Mónika Bögyös, created while on residency at A4 Sounds. She has created numerous intricate textile pieces by reusing and reworking images from notebooks from her time as a student. Each work is inspired by her everyday life, and by her experiences during her three-month residency.
Mónika Bögyös has employed a phenomenally wide range of materials, including unprimed canvas, textiles, embroidery threads, felt, ink pencils, ink blocks, photographs, unbleached muslin, buttons, etching, prints, human hair, shells, stones, oil paint, glass wax, pearls and glass. These materials substantially transform and bring new life to previous work, which would otherwise have been stored away, forgotten and subject to the erasures of time. 
Gracefully weaving together contrasting styles and disparate approaches to her materials and subjects, Mónika brings the viewer on a playful and fantastical journey, akin to exploring a symbolic taxonomy of an otherworldly flora, a ritual semiotics of healing, wellbeing, connection and care. Individual details almost seem to dance forth from the fabric, with a dynamic interplay of vibrant colours between pieces. Each piece is completely different to the next, but with a profusive organicism throughout, and all are imbued with her truly individual style and approach to textiles and sculpture.
About

Born Szekesfehervar, Hungary in 1972, Mónika currently lives and works in Dublin, Ireland.
Since Graduating in June 2017 she her work has been included in the public collection of The Office of Public Works, and has received the A4 DIT Graduate Award 2017, the RHA School Peer Residency Award 2017/18, the Mont Kavanagh Award for Fine Art and was shortlisted for the RDS Visual Arts Award 2017, curated by Nick Miller.
Friday 17 November – Sunday 26 November 2017
St Joseph's Parade
Off Upper Dorset Street
Dublin 7
Admission / price: Free