Yvonne McGuinness with CYT: You Can't Feel What You Feel
Wednesday 7 June – Sunday 3 September 2017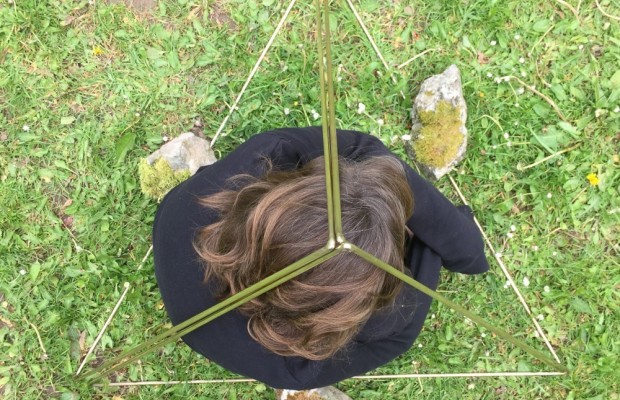 Two Performances: Wednesday 7 June at 6:30pm and Saturday 10 June at 3pm • Free but ticketed – Please call Box Office on 059 9172400 to secure a place • Yvonne McGuinness working with Carlow Youth Theatre
'Sometimes I feel like I'm wearing a heavy coat and I would like to be able to get other people to wear it'
'I like touching electric fences and the feeling of an unglazed cup on my teeth' CYT members
Investigating themes of empathy, sensation and connection to place, McGuinness has worked with Carlow Youth Theatre members to create a performance intervention for VISUAL's gallery spaces. Commissioned by VISUAL in response to the season's themes, the work explores how the languages of visual arts, theatre and spectacle can combine to communicate with and affect both participants and audiences.
Yvonne mc Guinness has an interest in embodied experience of place and re-imagining the everyday by devising projects that create surreal and dynamic moments of interaction and connection to place, time and communites.
Credits:
Facilitated by Sile Penkert and Eimear Cheasty
Carlow Youth Theatre Members, supported by Carlow County Council Arts Office
Director of photography:Mike Kelly
Soundscape: Ellen King
Technical Support: Anthony Walsh and Brian Sheil
This project is funded by the Arts Council Young Ensemble Scheme.
Image: Image credit: Gabriel mc Guinness
Wednesday 7 June – Sunday 3 September 2017
Old Dublin Road, Carlow
Telephone: +353 59 917 2400
Opening hours / start times:
Tuesday 11.00 - 17:30
Wednesday 11.00 - 17:30
Thursday 11.00 - 17:30
Friday 11.00 - 17:30
Saturday 11.00 - 17:30
Sunday 14:00 - 17:00
Admission / price: Free
Remember to pay for the parking!

Box office open, as well as times given, on day of theatre events from 6.30pm to show start.